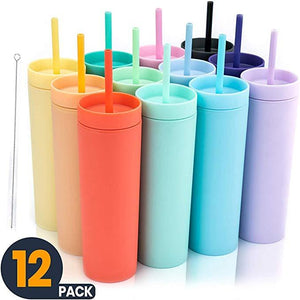 ✅COLD DRINKS STAY COLD! And warm drinks stay warm! Forget about single-walled tumblers. Sure, they can hold a drink, but sooner or later you'll wish that cold drink hadn't gone warm, or left condensation rings all over your surface. Strata Tumblers with their double walls, thermo-regulate your drinks so you can enjoy them down to the last refreshing drop.

✅12 FUN PASTEL COLORS: Got 12 kids? No? You will when you bring these out at parties. Watch how even the most serious adult eyeballs their favorite color, hoping that someone else doesn't grab it first. Obviously color-coding is a great way to stop someone stealing your drink, and a must-have for allergy sufferers.

✅SPLASH-PROOF LIDS: Most acrylic tumblers come with a rubber push down lid, and when you drop them the lid pops off. Strata Tumblers come with colored screw top lids with tight straw seal. While we can't say a few drops won't escape, we can say you won't be cleaning up a giant orange juice mess from your carpet.